Two days ago, The Devotea team held an event in a library.
Over the last year or so we have done so regularly. Our HQ is Adelaide, Australia, which for reasons of seething contempt and bitter jealousy, is reputed for only two things in Australia:
The "high murder rate" which is in fact less than Melbourne, Sydney and Brisbane on both a per capita and numerical rate. This misconception was triggered by a few high profile, quite unusual and newsworthy murders.
That we're boring and nothing happens, a misconception which is triggered by many East Coast Australians only ever removing their heads from their backsides long enough to admire themselves in a mirror.
So, in this 'boring town' of  about a million people, on that day we had a few things happening.
The second largest 'Fringe' festival in the world, which is an offshoot of the second largest Arts festival was in full swing, having taken back the streets from the major street car race that occurred here last weekend. (Over 47% of arts festival tickets sold in Australia are for events in Adelaide, we have ten major arts and cultural festivals, but sadly no tea one… yet.)
WOMADELAIDE, one of only three southern hemisphere WOMAD events was into it's second day full of international world music acts
A plethora of local shows and events
A long weekend was starting to celebrate this State's biggest horse race, the Adelaide cup.
Why is it important to note that there were other things happening? Because even though this event was the first time in a year that we had not sold out an event, we still had over 70% of capacity. and we felt that we had to make it a good one to reward the effort people were making to turn up.
In Adelaide, we call it Mad March and it's generally considered that sleep is for April. This one's even madder as tonight Adele is performing at Adelaide Oval.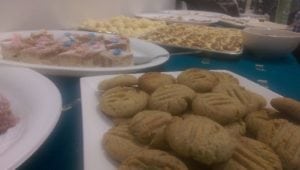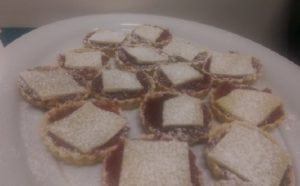 So, at this event, we debuted full catering. Saxon, AKA Devotea Jnr, created an amazing cornucopia of sweet treats. Lady Devotea made sure four rounds of perfect tea hit the tables, judged the "best hat" and "best teacup" and ran the stall. We had Sarah  running teapots and also not taking any of the photos you see here.
So, what did I do? Well of course, I just spoke loudly about tea.
Like my blog, when I talk about tea live I add in a lot of stuff that's vaguely connected to the topic on hand. At library gigs, I like to give literature a plug.
So, in twenty minutes over two hours, I covered Chaucer, Jane Austen and Douglas Adams. I covered some Russian, Persian and Turkish tea culture. We talked about female role models in Regency books and how they drank tea, and what tea they drank. And we covered famous literary/pop culture figures with tea obsessions, from Hercule Poirot to Captain Picard.
It was an excellent morning for many reasons, but for me, the best part about all this is revenge.
Yes, revenge.
I have always loved reading and as a kid, my favourite place was the school library. I loved everything from fantastic fiction to serious non-fiction, the latter getting me into a fair bit of trouble in the classroom for correcting teachers.
But I was often ejected. Why?
I have a loud voice. I'm not good at "keeping it down". I 'm even worse at "shoooosh".
I'm still loud. It's libraries that have changed.
We were at the Campbelltown library, and it's a well-designed, well-resourced library full of encouraging and interested staff. No-one says shoosh.
So now, the loud kid gets to be loud at libraries. It's sweet, sweet revenge. It's better that our societal revenge on 70s/80s maths teachers ("You have to learn this stuff because it's not like everybody walks around with a calculator in their pocket") because it's actually one of the ways we make our living.
Talking loudly in libraries. And it being seen as a good thing.
It goes to show what futurists know, because no-one saw that coming.
---
* This is my first post in ages without a footnote and I've just added this out of habit