It's two weeks since Lady Devotea and I left Canada, and this blog has been hovering over me. I just don't want to admit that that particular adventure was over.
Despite cranking up the heat and refusing to change the time back on some of my devices, I am unable to pretend to be in Vancouver any longer.
I know how lucky we are to have been able to spend time with our eldest progeny as he makes a life for himself and his partner in Vancouver. We saw him every day for a month and while doing that, we came to grips with a city that is  nearly always voted the best city in the world for the following exhaustive list of reasons:
It's the best city in the world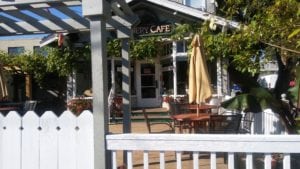 Eventually our last day arrived, and we knew that once we had packed, we had the time between checking out at 11am and our flight in the early evening to maximise our time. We decided to visit Steveson Village, which is where they shoot the TV show "Once Upon A Time"
And that's great, but it's not the subject of today's blog.
Over the month, we went on quite a few tea quests, and we have supped tea across the city and in it's surrounds. And most of the questing has been at my instigation.
But on this fateful day, possibly for genetic reasons, it was our offspring who was determined to add a tea experience to the day: tea with a layer of cheese on top.
WHAT?
I know there are some amazing concepts in tea, but this seemed a step too far.
I know that they butter their tea in Tibet. I know they drink green tea with milk in Uzbekistan. I know that you can buy matcha in a can. I have even heard of cafés where they offer teab*g tea and people actually pay for it instead of burning the place down. But putting cheese in tea seems to cross the line. I'm not sure where the line is, but this crosses it.
I started to think "Perhaps we are talking cream cheese". I kinda get that. It's just really slightly solid milk. But no, it was further clarified to "salted cheese".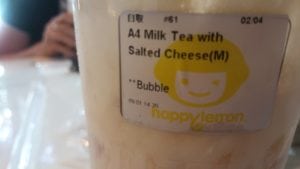 I know that already, some readers are lying in the foetal position, clutching rosary beads or their copy of "The Infusiast", intoning their person mantra or just banging the side of their head and muttering "NO NO NO", but we are nothing if not intrepid, and so in shopping centre in suburban Richmond, BC, we found "Happy Lemon".
As per the menu above, I ordered Milk tea, with tapioca pearls. Oh, and did I mention the cheese?
There is a diagram on the wall that suggests drinking this concoction at a 45 degree angle in order to maximise the experience. I did.
The 'salted cheese' layer, as far as I can work out, is a combination of cream, Himalayan rock salt and finely grated hard cheese, all whipped to a consistency somewhere between cream cheese and whipped cream.
So, how did it taste?
It tasted great. The balance was there, slightly salty but not too much. The ration was right between milky cheese and tea. I love tapioca pearls anyway.
As I left, I thought I would cheerfully have that again.
I was also quote hungry, and for various reasons, we did not eat for another two hours. By then, I was feeling quite nauseous. Was it the cheesy tea? I don't know.
I suspect it would have been OK had I eaten shortly thereafter.
Just a word on my cheese tastes: I don't much care for it. I like cream cheese, mozzarella, boccincini and basically those plasticy cheese slices uncooked. All of that list plus some cheddar-like cheese cooked. I can handle a little fetta if it's in something nice.

But Camembert? Brie? Blue Cheese? I don't like any of them. They are too cheesy for me.
So, this one was definitely mild. And I think I'll try it again, one day. On a scale of 0 (genmaicha while locked in a sewer) to 10 (Doke Silver Needle and battenberg cakes in the Tardis) this tea experience is probably a 6.5463.
Give it a go.  You know you want to.  George Bernard Shaw said "Tea wasn't meant to be cheesy" or something like that, but ignore him and live a little.