It seems these days, you can't go anywhere without smart people pairing tea and food.
Well, when I say "anywhere" and "smart people", I am specifically excluding the somewheres where dumb people think serving a teab*g to your guests is acceptable.
Anyway today's blog is inspired by some commentary around a spectacular event we are holding in our home town of Adelaide, South Australia. It's an amazing seven teas paired with seven dishes paired with seven stories (perhaps I mean "tripletted") that we are part of at a Modern Australian Restaurant at one of South Australia's most prestigious universities. (At the time of writing, tickets are still available).
Anyway, there's been a lot of commentary around pairing Gin-cured Kangaroo with Myrtle and Riberries with our Apple and Cranberry Fine White tea. (sidenote: as I sit here, I can smell the apples in the dehydrator for this tea).
Anyway, much of the commentary has been along the lines of "nom nom nom", although a  few overseas have been startled to find out that eating kangaroo is a thing here. Of course, on the day they have whipped goats' curd as an alternative, which is great of you don't want to eat Skippy but don't mind a few goats being whipped*.
Modern Australia Cuisine is a fusion (as is Modern Australia) with elements of our European Heritage, the bush foods enjoyed by our indigenous people for thousands of years and a fair whack of Asian influence. You can barely move at the moment for dishes such as 'Finger Lime and Teryiaki Black Pudding on a Stir Fried Tofu and Roast Turnip Mash'. And Alere Restaurant, where the event is, does go down that path, although also with a focus on local foods.
Anyway, I thought I'd blog about tea pairing, but with unModern Australia Cuisine. Specifically, with three of the finest foods that Australia has ever produced that go back somewhere between 20 and 200 years.
Damper.
For the uninitiated, damper is Australian Campfire bread. It's basically flour, water, salt and a rising agent cooked in coals.
It's basically bad bread. You can allegedly buy it from supermarkets every Australia Day, but it's a cop out, that's just actual bread.
The joy of damper is threefold: You made it yourself on a campfire, it smells like campfire and you can dunk it in whatever else you have bubbling along on the fire, such as "Random Ingredient Stew", which is a camping staple.
The easy way our would be to pair it with smoky tea, but why? It's already smoky.
No, the answer here is to make some billy tea by placing a strong breakfast tea in a tin can, boiling it for a while, straining it and drinking it with enough sugar to overcome the obvious tannin overload. Traditionally you put one gum leaf in the billy, which is mildly poisonous and tastes terrible, but hey, you wouldn't be sitting around stewing not-quite-fresh beef with bendy carrots and cabbage if you were interested in your health.
The Chiko Roll
One of Australia's main contribution to the culinary arts, the Chiko Roll was recently mired in controversy when three Australian Members of Parliament got into it, in Parliament, about which of their home towns invented it. It is also famous for an iconic series of posters, which once adorned fish'n'chip shops across the nation. Each featured a motorbike, a scantily clad young lass, and almost unnoticed, a Chiko Roll.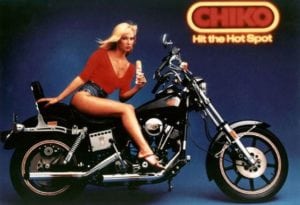 Here's one from the 1980s.
So what is it?
It's more or less a spring roll, but with several key features altered.
The pastry is kind of chewy and yellow, not crisp and thin.
It's huge compared to a  spring roll.
And finally, it's full of basically cabbage plus a bunch of other, not easily identified ingredients.
If you buy them frozen and oven bake them, they are truly awful. Exactly as they sound. The true artistry is drop them into red-hot, well-used chip shop oil, and cook them until they are just beginning to burn at the ends. Add salt and… MAGNIFICENT!
To pair with this, I use a mint and tea combo, such as our 1001 nights, to cut away a bit of grease and freshen up the mouth for the next mouthful. Also, try to have a cardiologist on hand.
The Pie Floater
This is a crowning glory and my home State's biggest contribution to world cuisine. You can only get it here.
It is basically a meat pie, sitting in a bowl of pea soup.
Personally, I have taken it to great heights with an Oolong-infused Goat Pie in a 1910, Pea and Bacon Soup, but at it's heart, it's cheap soup and a cheap pie, combining magnificently. It represents home cooking and takeaway, healthy and not, vegetable and everything but vegetable, all on the one dish.
Any properly scented (i.e. not artificially flavored) loose leaf Earl Grey goes with this.
And there you have it.
Traditional Australian cuisine and tea. A pair made in heaven.
.
---
*obviously a joke. No animals were harmed in the making of this blog.