I bought with me on this trip a tin of "Love of My Life 2016". Most years around Valentine's Day, I like to come up with a unique blend. This year, due to using some ingredients from our own garden that were in short supply, I was only able to make 6 small tins, so I made the decision not to give offer them for sale, but to present them all to Lady Devotea.
So, I put one in suitcase for Penang, thinking that it would be perfect for our 30th anniversary dinner,
I realised once here that two infusers was not the way to go, if one wants to have tea over a special dinner, so I needed a teapot or some other device. Of course, I explained this to Lady D as needing a teapot for the hotel room, to not give the game away.
Lady Devotea informed me that, as an anniversary gift, she would like to buy me a special teapot. And so, we were questing for two teapots.
A few days back we had the first serious attempt to fulfil that quest, wandering around Georgetown. Whilst we saw the most amazing things and loved much if it, none of the teapots were what either of us wanted. One Chinese emporium had a cardboard box for a teapot that would have suited my purposes, but the box was empty as they were using the teapot themselves.
Wandering around in the tropical heat has a consequence for the unwary: heat exhaustion, and we ended up curtailing our shopping trip and returned to the hotel. Another day, then!
Next day saw us at a tropical fruit farm, which was excellent (especially the lemongrass tea), and a butterfly farm.
We then caught a cab into Georgetown again, and asked the driver about pots. He took us to a department store.
They had about 100 teapots. Not all displayed together, but scattered over an entire large floor and mixed in with every other imaginable homeware.
I picked up one, then another, then another. In the end, I settled on a tin teapot, with old fashioned design but with a filter. Here it is: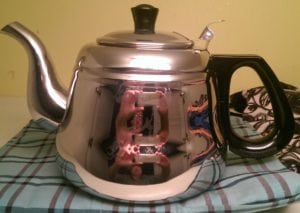 Lady Devotea did not find anything special enough. There were some nice ones, but mostly what you see anywhere. And Lady Devotea does not compromise.
We had to return for our anniversary dinner, a candlelit dinner by the beach. I picked up some new shirts I had tailor-made, then dozed in front of the TV for half an hour. Still a tad dozy, I of course forgot to take the teapot and tea. Never mind, I thought, we'll have it as a nightcap.
As it was almost certain to rain, the staff tried to persuade us to move our beachfront candlelit dinner indoors. We decided to risk it.
It didn't rain. It was warm, and the food was good. It was a long leisurely meal. We surreptitiously fed a stray cat under the table with rib-eye steak. As there was hardly anyone else there, we got great service.
The soundtrack was a bit unusual. It's Ramadan, and the mosque up the road features hours of chanting every night. Not to the faithful who are at the mosque, but shared with everyone, whether you like it or not, via loudspeakers. If you are of that faith, I'm sure it's great. I can't help feeling that, despite it being a successful multicultural society, it's really to remind the Buddhists, Hindus and other large groups here who is actually in charge. The night before we had classics on the PA over dinner, and I'd have to say, the local mullah doesn't really stack up to Michael Jackson.
Anyway, hours later and quite full of food, we staggered a few kilometres along the road, which is entirely taken over at night by roadside stalls selling, for the most part, fake designer clothing and bags. Lady D bought some nice Indian textiles, but no teapots were on offer.
I'd like to say that when we returned, I made cups of the special tea, but in reality, as we got back, I realised I was rapidly becoming unwell with a migraine.
The next twelve hours were messy, and it was not until the next afternoon that I dragged myself out of bed, unwilling to lose any more precious holiday time. We journeyed to Penang Hill, which was part awesome, part ordinary, but the awesomeness won, We found a new exhibit, basically a path through the jungle, and we were the only ones on the guided tour. It was blissful.
A quiet evening meal at the hotel, and about 9.30 we wandered up to the local mini mart to purchase soft-drinks at non-mini bar prices. When we came out, I noticed a gift shop that was open next door. Very Chinese, very good quality porcelain and the like.
We went in.
And there it was, the anniversary present. A ceremonial tea set that we fell in love with.
So many times, I think, you can't find what you are looking for, because you don't really know what it is. I know Bono had a lot to say on the subject, but I think if you are open to everything and take a few chances in life, you will find the people, places and things you need to make you complete.
So it was 32 years ago for me, and so it will continue to be.
---
Note: the tea set is boxed for transit. I'll post a picture or two in a few day's time