It is obligatory, when travelling, to enjoy an afternoon tea. Admittedly, it's not always easy. If you're in London, it's easy to find. The Australian Antarctic Territory, not so. Most places are somewhere in between, and Penang certainly is.
The afternoon tea to be had in Georgetown is that at the '1885' tea room at the Eastern and Oriental Hotel, and so we booked.
Before I get going, some people will refer to this as " a high tea". That's fine. It's not technically correct, but it's a bit like the phrase "chai tea latte" – maddeningly inaccurate, but I'd rather drink a cup of tea in the time I could spend debating it, and I recommend that approach to all.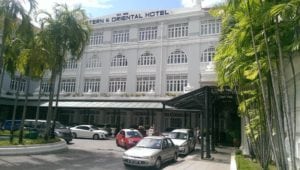 So, we arrived, and the door was opened by a concierge in pith helmet and safari suit. I kid you not.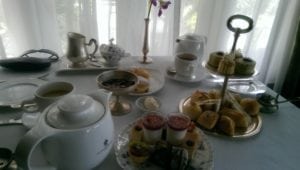 As you can see, the crisp white linen, superbly crafted food – both in terms of taste and aesthetics – and the decor is just what you expect from a quality afternoon tea.
I guess the question many of you will ask is: what is the tea like?
I'd have to say the selection of 14 teas was pretty good. Lady Devotea started with an Assam (Mokalbari) and I with a Darjeeling (Jungpana).
Unfortunately, the making of the tea was the weak link. It was made with water that had a chlorinated taste, so they are either not using filtered water or they need to change/clean their filters. Whilst it was not as apparent with Lady D's strong Assam with milk and sugar, it was very obvious in my delicate Darjeeling.
So, in a change of pace, I asked for a Tarry Souchong – no matter how bad the water, this is going to taste good – and Lady D plumped for a Vanilla Rooibos, (they spell it 'Roibosh', which I think is a much better transliteration.)
Unlike other afternoon teas, the tea is not unlimited here, and you have to pay for the further pots. They are large pots, so a better strategy might have been to have one to share and then another.
At a total cost for both of us, including the extra teas, of about RM170 (AUD56, USD41) including the compulsory tip and a rounding up, this is great value.
Much of the food was of a par with the very best: The Dorchester or Browns in London, The Mandarin in Vegas. In particular, the bread/sandwich course had a lot of variety and was very intelligent in terms of the range of shapes, sizes, construction and taste. The scones were scones, which is not always the case. The service was pretty good, although the staff did not know much about the tea.
Alcohol played no part, which to me is always good to see. I hate stale fizzy grape juice being elevated above tea.
Dollar for dollar, it's probably the best hotel afternoon tea we've ever had. Even taking out the fact that it's a quarter the price of some we've had, it's still top 5.
It's cool in the middle of a hot sultry day. The staff are painstaking, the view of the water is excellent. It's a shame we had it late on our visit: I don't think having it every day would be a bad strategy!
Afternoon tea is the best tea ceremony in the world; sharing it with the one you love, or a group of good friends  is surely the point. Once you've got that right, it's over to the venue, and the Eastern and Oriental's quite Western Afternoon Tea is very good indeed.