The image at the top of this post is a swimming pool we spent some time in and around yesterday, and during the day, a theme for today's post coalesced in my mind.
Too bad, it will have to wait, because life had other plans.
A day of relaxing and local wandering involved a lot of tea, from the sweet tea at breakfast to ready to drink tea with lychee juice, a pot of Ronnefeldt Darjeeling in a lovely garden coffee shop (tea and service not overly good, but lovely apple pie and surroundings) and some of our own. Of course.
After a rest, we were ready for dinner but it was a little early, so we decided upon a pre-prandial perambulation up the street.
The whole street turns into a succession of stalls in the evening, which means one has to risk life and limb wandering the road's edge, and put up with some very keen shop keepers. Often we stop to talk to them, as it does enrich your experience, and sometimes the value of the goods plus conversation is a very great bargain indeed.
We were about to turn when I spotted a stall across the busy street. YES! I MUST! I MUST!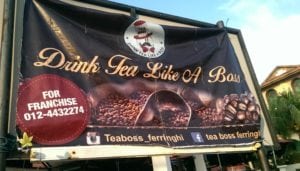 I pointed it out to Lady Devotea. YES! I WANT TO DRINK TEA LIKE A BOSS!
We crossed the street – fortune favours the bold in Malaysia in this regard, as traffic lights, signals, indicators and agreement on side of the road to drive are all merely suggestions here.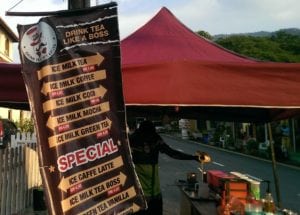 And perused the menu. We were at a point where neither of us needed tea, but there was no way I was not going to DRINK TEA LIKE A BOSS.
"Ice Milk Tea" was the selection. Let's do this.
Before I could get my phone out, our genial host had spooned some milk powder into a shaker and added a good slug of prepared tea.  Then the stretching started: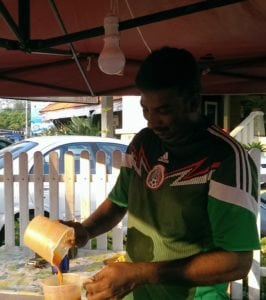 It was very entertaining. While it was going on, Lady Devotea asked how the tea got to be that terracotta colour, and the answer, with a  little linguistic challenge, seemed to be that "his wife made it with a machine".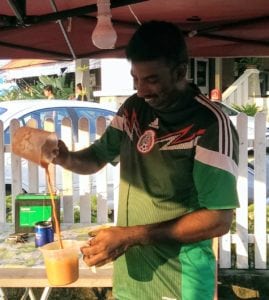 One of those answers that begs more questions, really.
Anyway, once the tea was fully stretched, it was time for an enormous cup of ice, and the insertion of the tea thereinto**.

All the while, we chatted and I kept asking him to slow down while I fumbled with my phone camera.
He showed remarkable patience.
I showed a remarkable ability to take forever to get my camera operational.
And after that, what comes next?
More milk, in the form of a dash of evaporated tinned milk!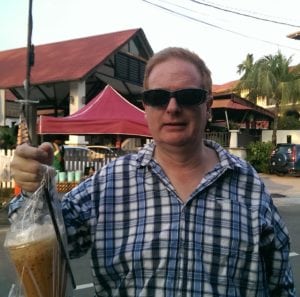 The perspective in my photo of this stage makes the cup look quite small. It really wasn't. It was, to use the technical term we use in Australia, "a big bastard". Huge, even.
It was done, and bagged with a straw. I crossed the side street with my prize, and Lady Devotea pulled me back as I had stepped in front of a scooter occupied  by a couple clearly in a hurry.
Having narrowly escaped a nasty incident. It was time for tea. After an obligatory photo of course.
I tried it, and it was delicious. It was creamy, with a sweetness somewhat less that "instant diabetes" but more than "OMG" and it had a great tea flavour.
Lady Devotea had a few sips but was wisely saving capacity for dinner.
But not me. NO! I did it. I drank it all… LIKE A BOSS.
---
** I think I totally made up the word "thereinto". Good, isn't it?