Well, here we are in Penang, Malaysia, and I spent yesterday drinking plenty of tea.
My Lady and I had decided to get a good night's sleep (you can translate that as 'arrived near comatose' if you like) and so my first tea -a Finbarr's Revenge from our own supply- got things cracking for me about 3.30am, which is 5am Adelaide time. Of course, that's what happens when you travel, even if the hungry cat that normally wakes you up is 6000 kilometres away.
After penning yesterday's blog and reading some Chesterton, I accompanied Lady Devotea as we descended into the madness that is the buffet breakfast at any large resort. While the buffet tables were chaotic, our table overlooking the Malacca Strait is one of the more memorable breakfast spots.
I discovered a percolator-style pot marked "teh telak" and asked a passing waiter to explain. "Tea from India" he said. "With milk".
I'm game.
Imagine some low grade Assam. Imagine stewing  it waaaay too long, then mixing it with a whole heap of sweetened condensed milk. Yes, indeed, it was incredibly delicious. More like a dessert. I'll be having that most days, I think. It's either that or a yellow teab*g, and I think we all know where that ends.
So, a history lesson – Penang was settled by Europeans (as opposed to others who had been here for quite some time) a generation before Adelaide. Literally. The founder of Adelaide, Colonel William Light, was the son of Sir Francis Light, who founded Georgetown and was the first Superintendent of Penang. Georgetown and Adelaide are sister cities which  basically means that our taxes pay for city officials to visit Penang, which wouldn't be so bad if they stopped coming back.
So, first stop Fort Cornwallis, the original seat of British power, right in the heart of Georgetown.
It's interestingish, but a bit rubbish. It cost RM20 each to get in (AU$7) and once you do, you find a few old structures, a paragraph about each on a stick, and a concrete amphitheatre in the middle where they are setting up for a concert.
So, it's late morning, hot and the attractions so far are a bit naff.
We then found the Penang State Museum.  To compare it to the SA museum, it's a tenth the size and whereas back home the museum is free, here it costs 1 ringgit. Yes, about AU30c. Worth it to spend an hour in air-conditioning.
Also worth it because it's good. Sir Francis Light's Last Will and Testament, some great artwork, a good background on the various main cultures (Chinese, Malay, Indian) and a cart pulled by dogs. What more could you want?

Here's what we could want: tea! Lady D suggested a place she had read about. Google suggested two great ones were closer. It's hot, closer wins.
A fifteen minute walk through narrow streets and sweltering heat, and we are almost there when we spot an unexpected  tea shop.
It's a pu'er specialist. They have huge quantities of it, but nothing else. Undaunted, we move on, although we start to notice that most of the shops are shut. As indeed, is the first of the tea shops, despite Google saying otherwise. Instead of a well respected Chinese purveyor of tea, we have a roller door.
Why? Well, we didn't know it at the time, but it's a surrogate public holiday. The main holiday is on Monday, but many locals take a long weekend at this time.
We are staring to flag, and press onto the second option, a French patisserie and tea shop. We arrive, and see it full of Harney and Sons tea. That will do nicely.
But there's a problem. Whilst Lady Devotea looks as elegant as ever, the heat and the walk have reduced me to looking like a jazz trumpeter's second-best polishing cloth. As soon as I walk in, they decide they are full.
Are they full? They have maybe a dozen tables, of which two are occupied. Despite there being no 'reserved' signs, they tell us as we don't have a reservation and are out of luck. I angrily walk out – well, walk into a glass door, which is similar – whilst Lady Devotea helpfully explains to them that while they might have the same tins as Harney and Sons off Broadway in NYC, they might like to consider having the same welcome for weary travellers. Meanwhile I stumble into the street.
We are done in, and there, in front of us, is a mall and a Starbucks. We circumnavigate the lower floor of the mall; hoping against hope, but there is nothing for it: Starbucks it is.
We both have an iced tea of some sort. Lady D's is based on syrup and arrives immediately. Mine needs to be brewed and takes about 15 minutes longer than it should.
Ahhh, Starbucks. Not content with making low quality undrinkable coffee, they continue to push the boundaries of how low tea can go. No matter where you go in the world, you can rely on them to be uniformly revolting in every beverage they offer.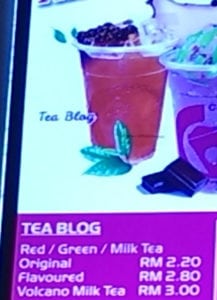 It was shameful. I seriously considered leaving it out of my narrative, but it makes a great contrast to our next option, a mall-ensconced hour later: TEA BLOG!
Hang on, isn't this a tea blog? No… that's a tea blog!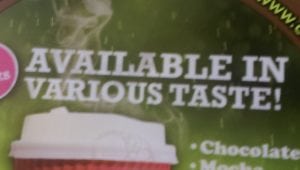 Iced red tea, genuine lychee juice syrup, lychee jelly. Incredibly refreshing, well made. Very moreish.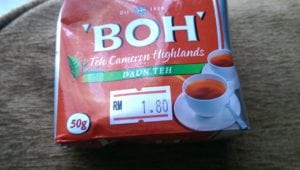 Suitably refreshed, we head back, with a little grocery shopping to pick up some milk. Hang on, what's this?
We are 3.5 hour away by car from the Cameron Highlands, and here's the local product. I must get some.
Back in the room, I brew some. It's very dusty – totally unsuitable for the "lobster" infusers I have bought along, and it's rather earthy, almost salty.
After a short rest, it's time to head down to the beach for dinner. I know, it's a hard life.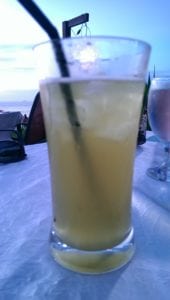 People who remember our Thai adventure of exactly 5 years ago will remember that I drank an iced sweetened Japanese Sencha out of desperation and actually enjoyed it, So here, "Ice Green tea with Honey" was likely to be similar.
And it was, refreshing, a nicely brewed sencha with not quite enough honey.
Later, at cocktail hour in the lounge bar in front of some live entertainment, I ordered it again, and got an elegant version with lots more honey and a dash of cream, Took it from acceptable to sensational.
So our first full day was done, and in sharp contrast to the day before, there was no horrific scene, and plenty of tea.
About two and a half litres of it, I think. Sure, most of it was sweet, which is not my usual habit.
But as I sit here at 5.39 am, in the warm, with the call to prayer for the faithful echoing across the pre-dawn tropical sea, I don't think anyone, apart from Weight Watchers and my dentist could argue that it was a very good day; with the promise of more to come.