I've pinched the title of today's blog from a favourite David Bowie track. But only the title – the festival we attended yesterday wasn't free. Not in money terms, although it was free from many of the things in Mr Bowie's song, such as flocks of hippies and rampant LSD use, but then it's not the 1960s any more.
So, yesterday, we attended the "Beachside Food and Wine Festival" for the first time since the inaugural one a few years back.
This is an idea from our local council, the City of Onkaparinga. Unlike many of their ideas, such as spending a fortune on the world's worst logo, it's not a bad one.
The inaugural event happened alongside the beach – quite fittingly – and we were there. It was a very hot and glorious November day on one of the finest beaches in South Australia: Christies Beach.
We were actually working. For some reason it was, and perhaps still is, an invitation-only event for stall holders. A couple who were great friends of ours, who owned our biggest tea shop outlet and who also were our partners in promoting our tea beer range were invited, and so we went along as part of their setup.
They handled the food and wine, I was in charge of the hot beverages and Lady Devotea had the beer covered.
Lady Devotea was perhaps the busiest person in the world that day. She went through hundreds of bottles of Tea Beer to great acclaim.
There were tens of thousands of people there. As we were serving alcohol, we were in a roped off section with all the wineries and breweries, which is to do with Australian Liquor licencing laws.
The Council rigorously enforced those laws, which is symptomatic of their approach: rigorous enforcement of rules and regulations teamed with a hopeless inability to deploy common sense.
The festival on that occasion was slated to go until 11pm. The council had huge temporary lighting, which they turned off at 9pm for a fireworks display… and never managed to turn back on. With just the street lights, most stalls were plunged into darkness and could no longer trade, the crowd thinned and we all packed up about 10pm, in the dark.
But nevertheless, it was a great day out.
So, how did the Council respond to actually running a rather successful event? Well, they moved it to April, to reduce the chance of it being a nice day.
Then, they split it over two sites, separated by a one- or two-kilometre walk over the biggest hill in the district. Perfect at a festival where people are, by definition, full of food and wine.
You have to ask, what more could they do to sabotage it?
Let me take a sidebar here to say I'm not surprised. This is the same council to whom we went a few years ago for support with a community service project to help the unemployed and the disabled.  After sensible talks with the Deputy Mayor about using a barely used Council-owned location at the local transport hub,  we were referred to various council minions, who offered a building in a country town with no public transport available: perfect for the unemployed and disabled if you are totally committed to failure, as the City of Onkaparinga often is. In fact, that building was available as it was built to house another of their good ideas done badly.
Anyway, since then, they've abandoned the "two sites" idea, cancelled one year entirely due to bad weather and yesterday presented it, not along the beach, but on one block and a small park at the beach end of Beach Road.
We parked where we parked for the first one, and then hiked a kilometre before finding ourselves approaching the public face of the event, which was the back of four portable lavatories and a temporary security fence with a gap in it.
There were some people involved in a conversation with someone with "volunteer" on  a name badge, whom we breezed past, and an orange-vested security guard, who we nodded to as we went past.
He stopped us and asked if we had a stamp, then indicated the volunteer and told us we had to speak to him. And the volunteer informed us that the cost of entry was a gold coin donation.
If you're not Australian, let me take a moment to explain that gold coins have not been used in Australia since the 1850s, so we were completely out of them, Also, we had inexplicably  failed to fill our pockets with Spanish doubloons prior to popping down to the festival. Luckily, the 92% copper/6% aluminium/2% nickel $1 and $2 coins that currently circulate are often referred to as "gold coins".
Asking for donations to a charity or community group, such as the Country Fire Service, is not unusual at community events. So I asked the volunteer who the donation was for, and he told me: "The Council".
Yes. the Council. So basically they are asking for a 'donation', it's collected by a volunteer and you can't get in without it.
They could, perhaps, just be honest, and say "we are holding a community event,  paid for by the community who are source of all our funding, and we'd like to further charge you a dollar, because orange vests don't come cheap. That way, we can save our funds for doing our actual work, such as collecting your rubbish bins, which admittedly we failed to do last week without explanation or corrective action".
This infuriated by Lady Devotea and I. We walked wound the tiny, badly laid out event in a huff.
It was predominantly wine event, which I have mixed feelings about – the pride of living on the doorstep of one of the world's great wine regions is tinged with that fact that I cannot understand why anyone would bother drinking unpleasant, old grape juice when a cup of tea might be had.
So, there was only one chance for solace: a cup of tea. There was none obvious from first glance, but then we saw Agatha's had a stall. Agatha's is a favourite spot in Port Noarlunga and they have a small selection of loose leaf tea. We popped in there, but alas, they had not bought the good tea to a culinary festival, they only had teabags. I ended up having a Coke Zero.
The entertainment consisted of a young lady singing in that choking Sarah Blasko- style at the time. Masterchef runner up Callum Hann (incorrectly billed by the City of Onkaparinga as "Masterchef Winner" on their event page) was not due on for a while, so we simply left, after getting a star printed on our wrists should be wish to return.
We had a lovely wander up the street, and thanks to the star inked on our wrists, we were able to cut back though the festival after making fists and waving them at security.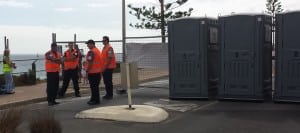 As we approached the entry/exit where we had first entered, we noticed that the entry – and the four magnificent portable toilets – were now under the watchful eye of FOUR security guards, who were cunningly pretending to do nothing but stand around discussing the football, but were actually keenly scrutinising the throng lined up for entry for troublemakers and coin-donation-dodgers.
Of course, maybe we were being cynical. Perhaps they'd heard that a boatload of ISIS terrorists were planning a surprise invasion at Christies Beach that day, but that the presence of four portly gentlemen in orange hi-vis was enough to send them scuttling back towards softer targets.
We'll never know, but highly visible security is the price we pay to enjoy our way of life and the joy of attending free festivals.
Well, that and a dollar.