This is my 320th blog post here on my main tea blog, and of those, 14 contain the word "cricket."
Given that I have no interest in Pinocchio's friend Jiminy and his brethren in the Gryllidae family of insects, it's a fair bet I was talking about the world's best sport. In fact, on one occasion I explained patiently to those who were unaware exactly why it's the world's greatest sport. (you can read it here. Go on, I'll wait for you.)
On Friday I was present at a cricketing event. Not in my usual guise of dashing batsman, making 200 for Australia against England, or bamboozling the world's best batsmen with my particular brand of off-spin, but then again, this time I was actually awake, and that is arena in which such things have never happened.
No, I was there for tea.
With the inextricable link between tea and cricket, we at The Devotea had been roped in to provide iced tea to the VIPs, guests and players of an international cricket series between Australia and England.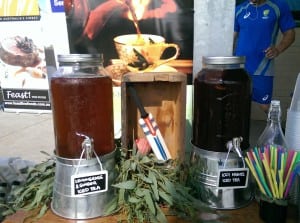 In the searing morning heat, we set up large canisters of Ginger and Lemongrass WTC and 1001 Nights, complete with tea icebergs in each made from the same teas. Unsweeteened but with sugar syrup on hand, before you ask.
Our tea was proudly displayed alongside some great product from other South Australian companies.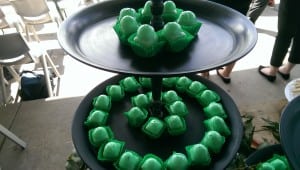 This included Frog Cakes, which believe me, take some explaining.
Various dignitaries started to assemble: A couple of members of the South Australian Parliament. The Lord Mayor of Adelaide. The Governor of South Australia…as you'd expect of an international cricket contest between the two sides of cricket's longest and most keenly fought rivalry.
At this point, cricket fans might be a little confused. With tickets in hand to Australia Versus India coming up this week in Adelaide, and knowing that England are currently touring South Africa, they may think that I've taken leave of my senses. (Which is not an uncommon reaction to my blog, anyway)
The key point here is that the event was the opening ceremony of the Lord Taverners International Blind Cricket Series.
Normally when you mention "Blind Cricket" it messes with people's heads. They either have the reaction of "how does that work?" or "isn't that lovely, blind people getting a bit of recreation" and I don't think either reaction is unfair, if you've not had much to do with the visually impaired.
As I've had the privilege of helping a couple of dozen blind people find work, enjoyed great meals from a blind chef, enjoyed a lot of music and other arts from blind people and met a few score guide dogs, I am a little closer to the action than many people.
A quick response to "how does that work?"
On each team there are a variety of players from totally blind to partially sighted
The ball is bowled up about 100 kilometres per hour – yes, the speed of a car on a country road – and it rattles, which enables totally blind players to hear it and whack it to some corner of the oval lest it thunder painfully into their shins.
Players train and compete with all the dedication of their mainstream colleagues, except that they get no payments, virtually no funding and no multi-million-dollar endorsements.
These are not, as you might think, disabled people out for a lark. These are athletes who take time from their lives, their work, and their families to represent their country – a country that is for the most part, blind to Blind Cricket.
We had stirring national anthems. We had team photos, with players beaming with pride to wear the national colours. We had a stirring opening address by Kelly Vincent MLC, a woman with cerebral palsy that has served our State with distinction since being elected to Parliament under the dignity For Disability banner.
After the ceremony, there was the morning tea. I spoke with lots of interesting people, including members of the England team, where I indulged in the usual Australian hobby of frightening them with stories of how hot it would be. They were lovely lads who were representing their country very well.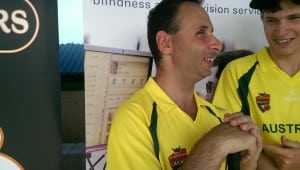 As both Lady Devotea and I had previously worked in the sector, there were old colleagues to catch up with. Many of the local SA blind cricket contingent are personal friends, and it was great to see three South Australian's in the national team, including our great friend Michael Zannis. Here he is:
We really must congratulate the tournament Director Cathrin Gill who pulled it all together.
Over the next ten days, the teams will meet in a  variety of formats and establish who really is the greater team, and I am hoping it will be these guys in yellow.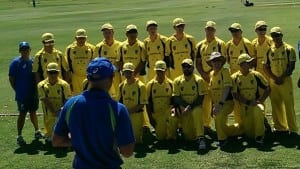 Regardless of the outcome, it is an amazing thing to be even a small part of.
So after the warm words and cheers and ringing anthems, after the pies and pasties and frog cakes and strawberries and fritz-and-sauce sandwiches, and after all the tea was gone, after most of the dignitaries had headed of to the next place to dignify with their presence, after we food and beverage sponsors had packed up our empty canisters and trays, the only thing left was for 22 players, plus officials to give it their all in the first match of the series.
Just then, in midst of an endless summer of hot and burning days, a violent thunderstorm hit and Adelaide was drenched.
No play was possible on the first day.
Test Match, One Day International or T20 format, the one thing that all kinds of cricket have in common is that the weather has the final say. So for that day these guys, superstars all, have to cope with being all dressed up with nowhere to go.
I'm sure they'll cope.