I have a passport that says I have never been to India.
However, standing in a confusion of sounds and sights that suggested otherwise, we soaked up music, dialects, scents, the sound of blaring car horns and parping motorbike horns, rows of saree shops and grocers with spices piled high.
Tamil, Hindi, Malayalam all combine to outgun Bahasa Malay here, as we sauntered though Georgetown's "Little India" district, firstly strolling through the late afternoon heat while sipping coconut water and seeking a bank machine, then seeking a meal from the row of food stalls that spring up along Lebuh Queen.
It was the Hindi temple on Lebuh Queen we had originally come to see, and as we approached from the outside, it was superb: a riot of devotional colour. Unfortunately, the colour orange is most thoroughly represented by the bunting that criss-crosses it. Through the sectioned off doors, we can see the inside has been gutted and is being rebuilt. A sign on the wall says that the temple will be finished when it's finished, and donations gratefully received.
But regardless of getting less temple time than we thought, our breakfast was a long-faded memory and so our thoughts turned to our evening meal.
We circumnavigated the block, checking out where the chairs and tables were free, and they seemed to be communal. First we approached a chicken-seller – the chicken legs with black bean, date and honey glaze looked incredible and I asked for two, forgetting the golden rule of asking the price first, and so probably got taken advantage of. The legs were provided in plastic bags.
Next, some biryani, so we found the best biryani seller – at least that's what was written on the stall. Again, I forgot to ask the price first.
So, at this point we have a bag of black bean chicken, two rolled-up packages of rice, two plastic bags of sauce, two plastic bags of raita It was a substantial pile of food for RM31 (AUD 11, USD7.5), and left us just to find a table. And also with no cutlery, which is pretty traditional.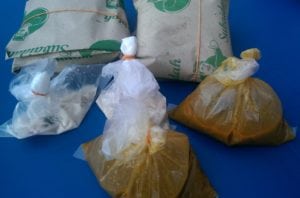 We found a table, and started to unwrap our bounty, but were ejected from it. We don't really understand why, but the sun was going down which meant those who fast all day during Ramadan were flooding in and seemed have priority. You can't really draw much of a conclusion, despite the fact that 100% of Westerners (i.e. us) suddenly had no seat.
We cruised a while in search of a seat, or even some cutlery, and in the end, we accepted an offer to enter a restaurant on the fringes of Little India – Restoren Kapitan.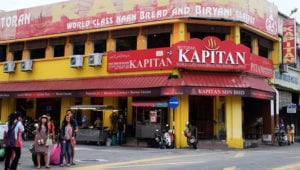 In the early days of Penang, Sir Francis Light selected a "Kapitan" for each ethnicity – Chinese, Malay and Indian – to dispense justice and make decisions for their communities, referring bigger issues to him. And clearly, thereby inspiring a restaurant name a couple of centuries later.
It's pretty basic looking, and it was packed to the rafters. It offers every kind of local food.
Lady Devotea ordered Fish Biriyani In A Claypot and I the Black Pepper Chicken, vessel unspecified. We added some Mango Lassi each, and two breads – Cheese Naan and Onion Malay-style Roti.
When the naan arrived, first I started to rip it in half, pausing just to take a photo.
I often order black pepper anything, as I can't tolerate chilli and it's my fix of heat. I've found in Malaysia they take no prisoners with the black pepper, Even the pepper sauce offered with western food, such as a steak, is rather blam-blam on the palate. While scoffing the Black Pepper Chicken, I note the naan we had split was also as good as it looked. Both were short-lived and seemed to just evaporate.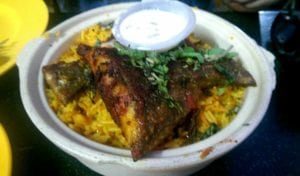 Lady Devotea's Fish Biriyani arrived next, and she was moved to quote Masterchef judge Gary Mehigin's phrase "party in my mouth". I think we can be clear it wasn't a tupperware party, children's birthday party or even a political party, but more a "teenage-boy-left-alone-for-a-week-with-a-house-full-of-booze" kind of party.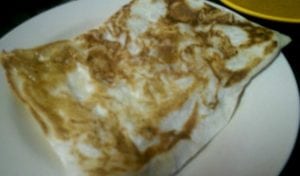 Not being a fish eater or chilli, I can't comment, but this little baby was sensational: a flaky malay-style roti. I watched the way they do these in Malaysia, they are different to Indian Rotis. Without going into the technique, they end up more like a paratha in terms of crisp flakiness. And this was, I have no doubt, one of the most delicious breads we have consumed over our 32 years and 3 day together. It's a bread that will turn up in our "remember when…" conversations for years.
While slurping some lassi, I recklessly ordered more breads: a Kashmiri Naan and an Egg Roti.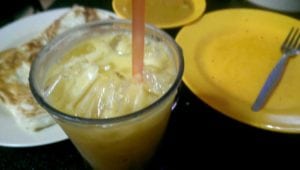 The egg in the roti was delicious, but textually it took away a lot of the flakiness, and the Kashmiri naan had an unwelcome surprise: candied orange peel, which meant I could not indulge due to allergies.
I wandered off to use the bathroom ( I won't go into it, but not Kapitan's finest feature), and on the way I passed an elderly Chinese woman who can be reasonably deduced as being very poor, homeless and visually impaired. She had moved onto a table as someone left with half a cup of tea undrunk, and she was remedying that.
Despite being stuffed to the gills, I also ordered a "Masala Tea" from the board from a passing waiter.
Shortly after I returned to the table, the elderly homeless woman swung by, looking for a few coins, and Lady Devotea did something that would have infuriated more than a few cafe/restaurant owners in Australia: she sat the lady down at the next table to ours, and furnished her with our uneaten Kashmiri Naan, some dahl and accompaniments.
This pleased the lady greatly. I guess reading this, you might wonder how the staff felt.
I saw the waiter approaching us with two cups of tea. My first thought was that there had been a mix-up, and although Lady Devotea had not ordered one, we were getting one each.
But no, the second cup was for the homeless woman, Our waiter had bought one for her himself. A great act of kindness and community spirit, and unlikely to be a one-off event.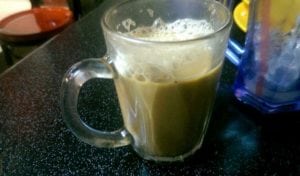 And what sort of masala tea do you get from an inexpensive cafe in Georgetown? A damn sight better than you might have guessed. It was loaded with milk and sugar of course, but it also had an excellent spice blend. Again, black pepper was almost overplayed, with nice cinnamon tones, over top of a robust Assam tea.
The total bill was RM50 (AUD16, USD12) and having had a wonderful time, we tipped 40% on top. This led to a really comical scene, as our main waiter then ran about the restaurant with the proceeds, being chased by his co-workers demanding a share. I got the impression this was a regular occurrence, and something they all enjoy.
Our cold, uneaten street was still in the plastic bag, and it was 90 minutes after purchase, so we regretfully slipped in into a nearby bin as we felt it might not be hygienically sound.
Having had the best meal of our time in Penang, we found our way back to Lebuh Queen, purchasing some Indian sweets for later from the only stall still selling.
While reluctant to call a halt to our last night in Penang, the streets were emptying, so we wandered toward the bigger streets and found a taxi.
We certainly found the right taxi, but more on that next time.